Tags
apartment therapy, bubble tree, bubbletree, bubbletree tent, chocolate candle, cool things on pinterest, designboom.com, fastcodesign.com, fujisan, horsey bike, live in a bubble, make grilled cheese in toaster, pinterest, pinterest finds, toastabags
If I had extra money, my apartment would be full of knickknacks and fun things. But I don't, so I'll create a list of "cool random items" I think someone should enjoy. Thank you Pinterest, Urban Outfitters, Apartment Therapy and other websites for your inspiration. You push me harder to try to obtain a full-time job, so one day I can be kitschy –tastefully kitschy.
1. Toastabags
The perfect way to make grilled cheese in a toaster without being messy. I don't even own a toaster, but if I did, I would want this product. You don't have to make sure both sides of your grilled cheese is perfect– the toaster does that. And you don't have to worry about burnt cheese on your toaster or a pile of melted cheese on your counter. It's brilliant!
(Fastcodesign.com)
2. Horsey
This is a horse every girl can afford. I want a bike and I want this one. What makes it look like a horse is an attachment, so all bikes can be this awesome. Words from the designer, "I wanted to give a special look to bicycles so that people would care about cycling not only as transportation but also as a lovely pet." Sounds like a fun guy. (Designboom.com)
3. Fujisan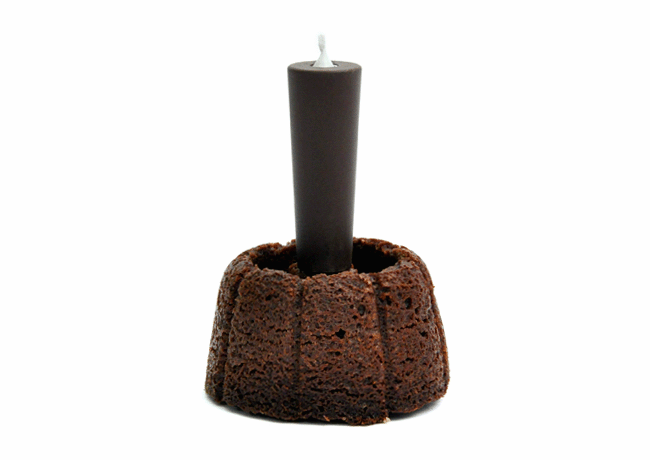 This is the best birthday candle ever. I don't know how fast this chocolate candle melts, but it would be awesome if it ended at the same time as the "Happy Birthday" song. This is great for your molten chocolate cakes or really any kind of dessert, if you're a fat kid and pyromaniac like me. (fx.ballery.com)
4. BubbleTree Tent
Bubble Boy didn't have a superb life, but I wouldn't mind sleeping in one of these in the summer, in a field. Imagine looking at the stars safely from a little bubble. I wonder how durable they are. There's also a tree house one, and it's well-known that S&B loves tree houses. There are multiple varieties, but they start at $9,000.
Found on ApartmentTherapy.com. Officially at bubbletree.fr/. I can't open because it's in French and my computer can't handle it.
–Katie